SoCal Hotel Workers Call for Boycott of Three Properties Following Employer Violence
Southern California: Hotel workers at the Hotel Maya in Long Beach, Laguna Cliffs Marriott Dana Point, and Fairmont Miramar in Santa Monica are calling for a boycott because of management's use or condoning of violence during the largest hotel strike in U.S. history. The boycott announcement comes as conventions, such as the American Political Science Association, arrive in the region.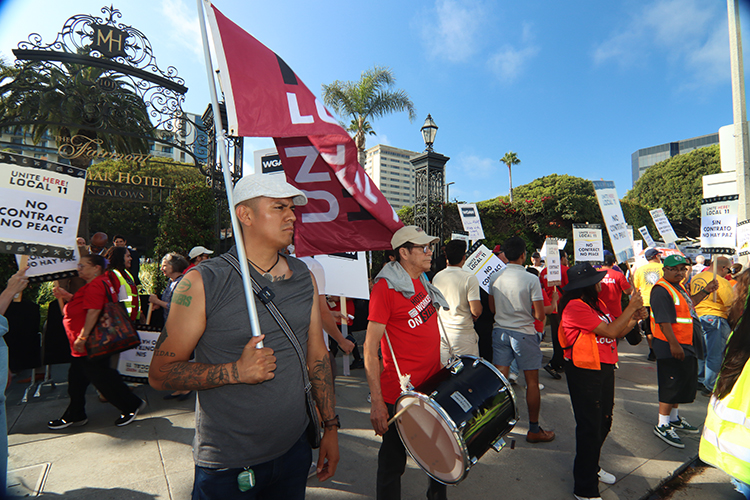 "I was punched in the face while peacefully protesting for a living wage, and hotel security and management not only did nothing to stop the violence, but actually participated in it by trying to forcibly relocate our picket line using a chain link fence. I don't have health insurance and now on top of worrying about my bills, I have to figure out how to pay my medical expenses," said Carlos Cheverri Canalés. "I ask the public to not spend a single penny at the Hotel Maya until they commit to paying a fair wage and ending violence against strikers."
"For 38 years I have welcomed guests into Santa Monica, but the moment I stood up for a better life for me and my family, security tackled me to the ground while we were trying to establish a picket line in front of the hotel." said German Martinez, dishwasher at Fairmont Miramar Hotel & Bungalows in Santa Monica. "My legs and arms may be bruised, but my will to keep going is not. That's why I am calling for a boycott."
While picketing, Emilse Pineda was punched in the head by a guest at the Laguna Cliffs Marriott Dana Point. "I was in shock as the punch came out of the blue," recalls the housekeeper. "I reported the incident to hotel security, but they did nothing to help identify the man or remove him. I felt almost drunk and woozy and had headaches over the next several days. The day after the punch, I passed out and the paramedics were called. As far as I know, the hotel has done nothing about this incident."
Last week,  UNITE HERE Local 11 filed a federal unfair labor practice charge against these hotels and the hotel industry's bargaining group, the Coordinated Bargaining Group, alleging that the group of employers have interfered with their employees' right to organize by unlawfully committing and/or condoning violence against employees in response to strike and picket activity, in particular at the Hotel Maya, the Fairmont Miramar Hotel & Bungalows in Santa Monica, and the Laguna Cliffs Marriott Resort & Spa in Dana Point. The Westin Bonaventure has come to an agreement, leaving 60 hotels with open contracts.
Kurt Petersen, Co-President of UNITE HERE Local 11 adds, "Our members have taken the step to ask the public not to 'eat, sleep, or meet' at the three hotels – Fairmont Miramar in Santa Monica, Maya Hotel in Long Beach and Laguna Cliffs Marriott – where hotels used or condoned violence to stop workers from fighting for wages that will enable them to live in the community where they work. We will not be intimidated at the bargaining table or the picket line."
https://www.unitehere11.org/wp-content/uploads/boycott-August-1.jpg
350
750
UNITE HERE Local 11
/wp-content/uploads/newlogo_512.jpg
UNITE HERE Local 11
2023-08-14 11:27:57
2023-08-21 11:11:37
SoCal Hotel Workers Call for Boycott of Three Properties Following Employer Violence